Catalyst 045178ACB. Volkswagen Sharan
Catalysts with code 045178ACB. Their weight, depending on the specific model, ranges from 1.17 kg to 1.5 kg. The average length is about half a meter. Catalysts are characterized by a round cover shape and a long longitudinal outlet. Rust likes to settle on the convexity of the cover. Next to the catalyst number, we can often find manufacturers such as "dd", "jd" or "Germany". These catalytic converters were used in vehicles such as VW Sharan and Ford Galaxy 1.9l, 1998-2002.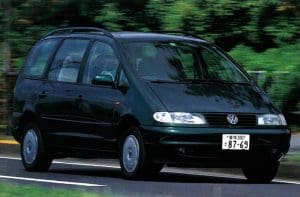 The Volkswagen Sharan was definitely a response to the needs of the market at the time. In the 90s of the last century, there was a fashion for large family cars. Vany is perfect for this need. Although Renault was ahead of its competitors and was the first to introduce such a model – the Renault Espace – the Sharan made a real sensation in the car market. The car was a collaboration with Ford, which also used the catalyst model described here, and the Galaxy can be considered its twin brother. 
Volkswagen was responsible for the drive shaft design. Interestingly, the Sharan proved to be no match for even the new Golf III. Its success is shown by the fact that it was produced until 2010, which is 15 years. The first version of the model was valid almost throughout this period. Only five years later, it was decided to change the exterior. Front and rear lights have been replaced and a new bumper has been used. In 2005, it was decided to introduce a 2-liter TDI diesel version in the engine range. The second version was published in 2010. The design was created by Italian designer Walter de Silva, who used to work for Fiat and even designed the dashboard for our Polish Fiat 125p. The new generation recalls the design of its Polo V and Golf VI
The second generation of the Sharana was equipped with a number of technical innovations such as the Front Assist system, the blind spot monitoring system and the little-known Rear Traffic Alert, which warns of a collision while driving in reverse. The new engines were designed to meet the Euro 6 standard. Sharany is known for having a huge space inside. All seats are adjustable, there are wide armrests in the front, and two additional seats are installed in the trunk. Most of all, drivers complain about low-quality plastic.