Catalyst converter N43. Honda
Catalyst code N43 have been used in Honda car manufacturing. They are characterized by a metal insert, elongated shape, length up to 55 cm and weight up to 4 kg! There are screw holes in the edges of the cover. The catalyst is of symmetrical construction and has a transverse line in the middle dividing it in half. A common defect in the N43 model is a crack in the outer casing. The N43 was fitted to the Honda CR-V, 2.2 CTDI engine version. 
The Honda CR-V is a compact D-segment SUV that has been manufactured by a Japanese automaker since 1995. in several series.
The first CR-V series was produced from 1996 to 2001. In 1999, the car was upgraded several times, including increasing the power of the 2-liter petrol engine from 128 hp to 147 hp. The predecessor was the Honda Crossroad I. Its name derives from the English compact recreational car. The vehicle resembles an SUV in its aesthetics. In total, more than a million copies were sold, and at the end of 2001, Honda announced the launch of a new version.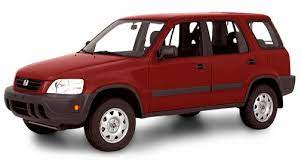 The second CR-V series was available from 2002 to 2007. The model was more rectangular in shape and had a more spacious trunk. It was also slightly higher than in the first series. It is 4,535 mm long, 1,785 mm wide and 1,680 mm high. The unladen weight ranges from 1538 kg to 1654 kg, depending on the version. The car is equipped with an automatically engaged four-wheel drive – SH-AWD, as well as a track stabilization system that was not available in the previous generation. Initially, this version was only available with a 2-liter i-VTEC engine, but in late 2004 the range was expanded with a 2.2-i-CTDi engine with 140 hp, which had previously debuted in the Honda Accord.
2002 the car underwent Euro NCAP crash tests, during which it received a 4-star rating. 
At the end of 2016, the fifth version was unveiled at the Los Angeles Auto Show. The designers took care of the completely new design, but left a distinctive black belt at the front. An attempt was also made to replace the dashboard.